1-Part Heat-Curable Grease
This product can be used in the process of dispensing or spraying, and enables automation of the coating process.
Adhesive thermal conductive grease
This product combines excellent thermal conductivity and low elasticity, and develops adhesion through heat curing.
This product is siloxane-free.
Note that this product should be stored frozen.

Verification of heat dissipation effect by thermography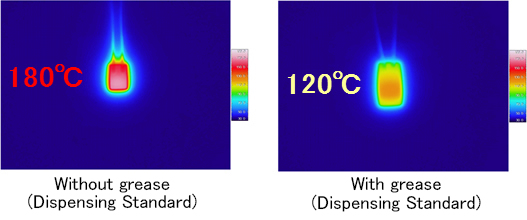 Properties
Specification

Unit

Product

Dispensing
Spraying
Standard
Low Temperature
High Thermal Conductivity
Standard
Thermal Conductivity
ASTM E 1461
W/(m・K)
2.5
1.8
6.0
2.0
Viscosity(25℃)
Pa・s
60
65
70
0.1
BLT
um
75
20
150
20
Specific Gravity
-
3.0
2.8
2.9
2.4
Adhesive Strength
MPa
7.5
8.0
3.0
8.0-9.0
Storage modulus(25℃)
MPa
300
300
300
10,000
Curing condition
℃ , hr
150℃ , 2hr
85℃ , 2hr
(or 150℃、5min)
150℃ , 2hr
1st:85℃ , 30min
2nd:195℃ , 80min
Remarks
-
Without solvent
Without solvent
Without solvent
With solvent
Status
-
Mass production
Under development
Under development
Under development
Contact
Other Products